4th Program of International Platform on Ocean Energy for Young Researcher 2017
(Report)
Institute of Ocean Energy, Saga University (IOES), A Joint Usage/Research Center, National University Corporation
IOES was established to contribute through the development of ocean energy to efforts to resolve the global environmental issues.
Meanwhile, IOES promotes academic exchange. Japan-Korea joint young researcher forum has been held in inter-university collaboration between Japan and Korea over the past 10 years.
For the next leaps in research capability and academic exchange, the 4th Program of International Platform on Ocean Energy for Young Researcher 2017 has been held. In this program, 28 young researchers were invited from 17 areas (China, Egypt, France, Korea, Malaysia, Netherlands, India, Indnesia, Iran, Palau, Philippines, Portugal, Singapore, Thailand, UK, USA and Japan).
The special lectures by professors in a field of ocean energy were delivered. Continuously, the presentations by young researchers were conducted in the program, and Best Presentation Awards were given to 5 presenters. Besides, the young researchers debated about 2 questions ("What is the barrier to promote Ocean Energy?" and "What should we do to promote Ocean Energy?") in the group discussion. Furthermore, the company tour was held in Saga and Nagasaki, and it was finished with short presentations about the knowledge obtained through this program.
◇ Date: 20th - 25th November, 2017
◇ Venue: IOES Imari Satellite
◇ Schedule & program:Prease refer to Link
◇ Best presentation award:5 winners
| | | | |
| --- | --- | --- | --- |
| Name | Country | Affiliation | Presentation title |
| Carwyn Frost | UK | Queen's University Belfast | Tidal Turbine Testing: Spanning the Gap between the Laboratory and Tidal Test Site Experiments |
| Nathan Tom | USA | National Renewable Energy Laboratory | Development of a Nearshore Oscillating Surge Wave Energy Converter with Variable Geometry |
| Frank Geschiere | Netherlands | Bluerise B.V. | Modeling and model validation of the performance of an ammonia-water OTEC demo plant using advanced condenser models |
| Ristiyanto Adiputra | Indonesia | Kyushu University | Preliminary Design of an 100 MW Ocean Thermal Energy Conversion (OTEC) Power Plant in Indonesia |
| Soroush Mehdizadeh | Iran | Yamaguchi University | Reverse Electrodialysis (RED) power generation by mixing sea water and river water |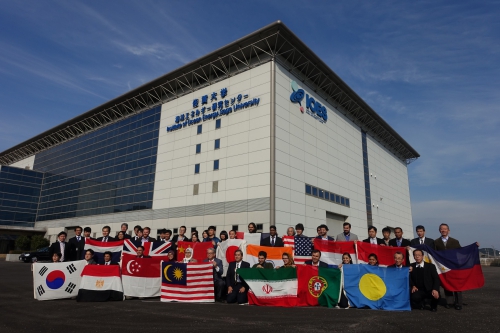 Group photo at IOES Imari Satellite
        IOES facility tour          Group photo at conference room
        Special lectures          Young researcher presentation
      Q & A on the presentation           Group discussion
      Group discussion presentation        Best presentation winners
        Company tour               Closing ceremony
Contacts:International event secretariat (IOES Imari Satellite office):TEL:0955-20-2190 E-mail:forum◎ioes.saga-u.ac.jp
4th Program of International Platform on Ocean Energy for Young Researcher 2017
(Announcement)
Institute of Ocean Energy, Saga University (IOES), A Joint Usage/Research Center, National University Corporation
We, IOES, will have the 4th International Platform on Ocean Energy for Young Researcher in November 2017, and will invite young researchers from the world. The objective is to improve the ability of the young researchers through the academic discussion and to build the human network of ocean energy researchers.
<Application>
Please submit the application via e-mail ioesipoeyr@ioes.saga-u.ac.jp
The application form can be downloaded Word or pdf.
<Deadline>
The deadline of the application is July 17, 2017.
*10-15-minute presentation on marine energy is obliged to participants.
*flight ticket (e-ticket) will be sent from Saga University before the deperture.
*We will book all the accomodation and international flights and domestic transportations during the program.
*Entry qualification: Master/Doctoral course students, Postdoctral fellow and Research associate under 35 years old
*We will inform the final acceptance letter by Aug 1, 2017.
VENUE
Institute of ocean energy, Saga University
Address: Kubara 1-48, Yamashiro, Imari City, Saga, 8494256, Japan
Tel: +81 955 202190, TeleFax: +81 955 202191
http://www.google.com/maps/d/edit?hl=en&mid=zpb3zFULjH38.k25dj1Fr-RPM
ACCESS
FUKUOKA Airport (FUK)
http://www.google.com/maps/d/edit?hl=en&mid=zpb3zFULjH38.k0eaUsQEUPGs
http://www.fuk-ab.co.jp/english/flight_int.html
Preliminary Schedule
Nov. 20 Opening, Orientation, Saga University OTEC Lab tour, Welcome party at IOES
Nov. 21 Speciall lectures. Presentations by young researchers.
Nov. 22 Presentation by young researchers.
Nov. 23 Move to Nagasaki city and factory tour at Nagasaki city
Nov. 24 Move to Imari city and factory tour at Imari city and Karatsu city, Move to Fukuoka city
Nov. 25 Closing meeting at Fukuoka city
Reference: 3rd Program in 2017